Water Line Repair in Kennesaw, Kennesaw, Cumming, Lawrenceville and Other Surrounding Communities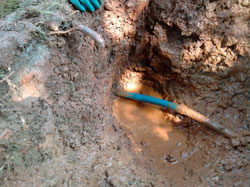 When you need to repair your water line, time is always of the essence. A broken water line can completely disable your home's plumbing system and make it nearly impossible for you to brush your teeth, clean dishes, wash a load of laundry or complete any number of other necessary tasks. This means it's important to find a plumbing company like Plumb Xpress Plumbing & Drain, who can immediately send a plumber to your home to get your water line problem solved quickly. We have plumbers stationed throughout the Kennesaw, GA area who can be to your door within 90 minutes of your call for any plumbing emergency, day or night. For large projects, like a water line repair, we can start as soon as the utility lines are marked, usually within 24 hours. While there may not be a quick fix for a broken waterline, our plumbers have the skills and experience to complete these large projects in as little as 3 days in many cases. You'd be hard pressed to find another plumbing contractor who can offer speed like that.
In addition to water line repair, we can also quickly perform other major plumbing work, including:
Sewer line replacement
Backflow preventer installation
Septic system repair
Polybutylene pipe replacement
And more
No matter what work we're performing, you can count on Plumb Xpress Plumbing & Drain to perform a lasting repair, not just a quick fix. We stand by all of our work, and want you to feel confident in our services, which is why we offer a 1-year warranty on all of our work except drain cleaning. We'll immediately repair or replace any of our work that doesn't restore your plumbing system to perfect working order.
For more information on our water line repair service, contact Plumb Xpress Plumbing & Drain today. We're proud to serve the Kennesaw Metro area including Roswell, Kennesaw, Sandy Springs, Lawrenceville and other surrounding communities.