Commercial Plumbing Services in Kennesaw, Roswell, Marietta, Kennesaw, Johns Creek and Beyond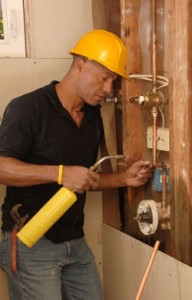 Kennesaw plumber to find a convenient time to help you, call the rapid response team at Plumb Xpress Plumbing & Drain. We have technicians located throughout the Kennesaw, GA area who are ready to respond at a moment's notice to any plumbing emergency. Our experienced technicians will always arrive in 90 minutes or less so you can have your repair started quickly. You can also count on our commercial plumbing to be done correctly. Our plumbers also undergo a thorough pre-employment test, in addition to their state licensing, so we know they're capable performing your repair both correctly and rapidly. Our dedicated employees can have most problems fixed in less than a day, and even major repairs to sewer and water lines can be completed in as little as three  days.
Some of the many commercial plumbing jobs we can have done quickly include:
Hydro jetting
Leak detection
Sewer and water line replacement
Water heater or boiler repair
Backflow installation
Oil interceptor repair
And many more
Plumb Xpress Plumbing & Drain can do more than just save you time on these commercial plumbing services, because our unique business model helps us provide our services at a more affordable price. Our technicians are paid hourly, unlike the technicians at most companies who receive a commission. This way, our plumbers look for the most effective solution to your problem, not the most expensive. We also never charge a diagnostic fee on any commercial plumbing work we perform. In fact, we never hide any fees, so the price you're quoted will always be the price you pay.
For more information on our commercial plumbing contractor services in Johns Creek, Peachtree City, Alpharetta, Kennesaw, and across the Kennesaw, GA area, contact Plumb Xpress Plumb & Drain.