Plumber Smyrna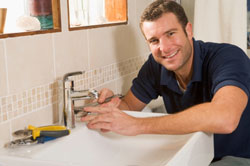 You need a plumbing company that is not going to make you wait forever. Plumbing repairs need to be taken care of promptly, and that is why Plumb Xpress Plumbing and Drain will be at your front door within 90 minutes. We are on-call 24/7 to serve your emergency plumbing needs.  Call Plumb Xpress today and get your plumbing problems fixed fast!
Residential Smyrna Plumbing
Plumb Xpress Plumbing and Drain covers all aspects of residential plumbing repair. No matter the age of your home, our experienced plumbers have the skills and training to fix your plumbing problem correctly the first time. Call Plumb Xpress Plumbing and Drain now for all of your residential plumbing needs.
Commercial Smyrna Plumbing
At Plumb Xpress, we employ professional plumbers that are highly skilled in the service, repair and replacement of commercial plumbing fixtures, drains and water lines. Call Plumb Xpress today for speedy service on all of your commercial plumbing repairs.
Full Service Plumbing in Smyrna
All of our courteous plumbers are state-licensed professionals that have undergone pre-employment screening so that you can feel comfortable with them in your home. Our plumbers are constantly involved in professional development to ensure that they are experts in their field.
Some of our plumbing services include:
Drain cleaning
Sewer and water line repair or replacement
Tankless water heater repair
Leak detection and repair
Commercial plumbing installation
And much more
Call Plumb Xpress Plumbing and Drain now for the fastest plumbing service in Smyrna.
Customer Loyalty Rewards
When we complete any plumbing repair or service in your home, we will provide you with a coupon good for $25 off your next plumbing repair or service. It is just our way of saying thank you! We also offer free video inspections with any drain cleaning service. Contact Plumb Xpress Plumbing and Drain today for all of your plumbing needs.
Plumb Xpress is proud to serve the Smyrna area, including, but not limited to: Lithia Springs, Mableton, Powder Springs, Smyrna, and Vinings.
Our service range includes customers within the following zip codes: 30080, 30081, 30082, 30339.