Sandy Springs Plumber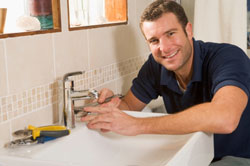 Plumb Xpress understands that you need fast plumbing service. One call, and you will be connected with a plumbing professional that will dispatch the appropriate plumbing expert to your home within 90 minutes. In addition to our every day rapid response plumbing, Plumb Xpress Plumbing and Drain also offers 24 hour emergency plumbing repair. Don't waste another minute waiting around for someone to fit you in; contact Plumb Xpress today for fast, professional service.
Residential Plumbing Service – Sandy Springs
The plumbing professionals at Plumb Xpress Plumbing and Drain are skilled in all aspects of residential plumbing. The Sandy Springs plumber that arrives at your home will have the experience to fix your problem correctly and the best materials for replacement. We offer several important residential plumbing services at affordable costs, including leak detection, sewer repair, and water heater installation. At Plumb Xpress, we take pride in every project we start and also do our best for every residential plumbing call. Does your home's system need help? Call Plumb Xpress now for fast and reliable residential plumbing services in Sandy Springs.
Sandy Springs Sewer Repair
We didn't name ourselves Xpress for nothing. When it comes to sewer repair in Sandy Springs, we're able to respond to your problem and get it taken care of quicker than any other option in the area. Many sewer repair projects can be very time-consuming, but we are typically able to have them completed within three days. Also, our Sandy Springs plumbers are able to arrive at your home within 90 minutes. Please give us a call anytime you are in need of professional sewer repair.
Sandy Spring Plumbing Services
No other plumber can offer high-level commercial and residential plumbing services at an affordable cost like we can. Our Sandy Springs plumbers do not work on commission and won't charge any diagnostic fees if we commence on actual repairs. We also don't charge extra to do commercial or residential plumbing services on weekends or holidays. You can also expect your plumber to meet the highest standards of respect and cleanliness. Sound too good to be true? Give us a call and let us prove you wrong!
Some of our plumbing services include:
Drain cleaning
Sewer and water line repair or replacement
Tankless water heater repair
Leak detection and repair
Commercial plumbing installation
And much more
We complete most jobs in the same day. Call Plumb Xpress Plumbing and Drain now for fast plumbing service.
Thank You for Your Business
With any service we complete at your home or business, we will present you with a coupon redeemable for $25 off your next plumbing repair or service. We also offer a free video inspection of your drain when you purchase a drain cleaning service.
Contact Plumb Xpress Plumbing and Drain today for a professional plumber in Sandy Springs.
Plumb Xpress is proud to serve the Sandy Springs area, including, but not limited to: Chamblee, Doraville, Dunwoody, and Sandy Springs.
Our service range includes customers within the following zip codes: 30327, 30328, 30342, 30350.