Rapid Response Plumbing in Athens and North Georgia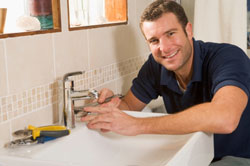 Need a FAST plumber in Athens or the surrounding area? No worries! Plumb Xpress Plumbing and Drain is there when you need us. Our fast response emergency plumbing services are available 24/7.
Your Athens Plumber Day or Night
If you have to call a plumber in the middle of the night, you want to make sure you know who you are inviting into your home. All of our employees are required to pass a drug test, background check, and competency test prior to hiring. In addition, our technicians are all state licensed and up-to-date on the latest technology and techniques.
Courteous and Quick Athens Plumbers
You can count on Plumb Xpress Plumbing and Drain to send an Athens plumber who is prepared to handle any plumbing problem. Whether it is your personal home or a rental property, Plumb Xpress professionals will troubleshoot the problem and be in and out in one day in most cases.
Don't Overpay for Plumbers in Athens
Each one of our experienced Athens plumbers receives an hourly compensation rather than a commission. This ensures that you will never be offered a service or repair that you do not need. We will also provide you with a coupon for $25 off your next service call when we complete any service or repair. Call Plumb Xpress Plumbing and Drain in Athens now!
Athens Plumbing Services
No matter what kind of plumbing problems you may be experiencing, Plumb Xpress Plumbing and Drin has the solution. Our Athens plumbing company services include:
Sewer repair
Water line repair or replacement
Tankless water heater repair
Leak detection and repair
Commercial plumbing installation
And much more!
For an experienced, professional plumber in Athens, GA and the surrounding area, call Plumb Xpress.
Plumb Xpress is proud to serve the Athens and North Georgia area, including, but not limited to: Athens, Commerce, Jefferson, Monroe, Snellville, Watkinsville, and Winder.
Our service range includes customers within the following zip codes: 30601, 30602, 30603, 30604, 30605, 30606, 30607, 30608, 30609, 30612.